Traffic Survey Quetta
Critical decision behind every successful development requires strong basis of reliable data and information to create confidence in decision and production activity. Transportation related development such as road infrastructure, transportation services, freight planning, public mass transportation necessitates high capital investment, therefore, entails deep traffic study to warrants the investment. Traffic Survey and Traffic Study in Quetta is foremost step for feasibility study and planning of any development. Traffic surveys are activities to quantify the magnitude of states and parameters of traffic that is travelling through certain road segments.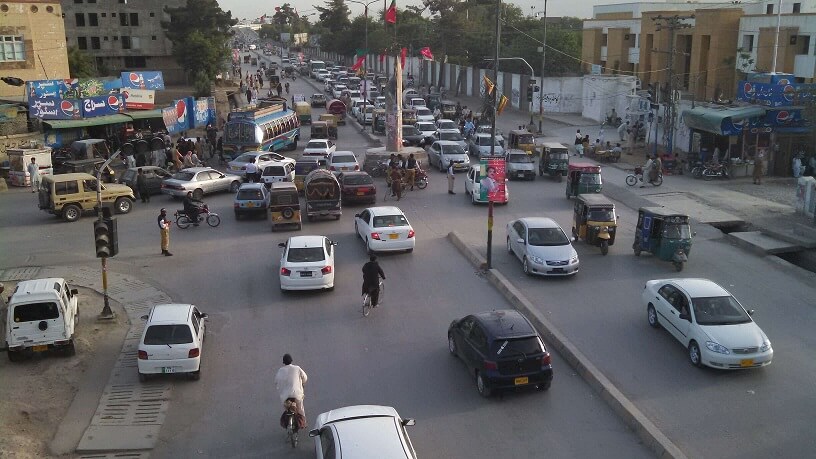 Traffic Situation in Quetta
Quetta is the capital and activity center of Balochistan province as it controls economics and business activities of many nearby cities such as Chaman, Kuchlak, Mastung, Mach, Khuzdar, Qila Abdullah, Pishin, Loralai, Dera Ghazi Khan, Dera Ismail Khan, Kalat, Sibi, Qila Saifullah, Surab, Besima, Dera Bugti and Bostan etc. These nearby cities have rich connectivity with Quetta via RCD Highway, Samungli Road, Baleli Road, Quetta Road, N65, N40, N25, N50, Chaman Road, Pishin Road. These inter cities highway are assisted with internal roadway such as Sirki Road, Zaman Khan Road, Eastern Bypass, Sarhab Road, Qambrani Road, Raisani Road, Arbab Karam Khan Road, Brewery Road, Sabzal Road, Joint Road, Double Road, Hameed Barich Road, Chittan Road, Kach Road, Shahrah e Iraq, Quarry Road, Zarghun Road, Anscomb Road, Prince Road, Patel Road, Spinny Road, Shahrah e Iqbal and M.A. Jinnah Road.  Furthermore, it is latest major city connecting to Pakistan Afghanistan Border near Chaman and Spin Buldak increasing its geo political location. Due to scarcely development of Balochistan and international trade with Afghanistan, Quetta has critical prominence in Balochistan province.
With advent of One Belt One Road initiative by China and initiation of China Pakistan Economic Corridor (CPEC), Balochistan becomes center piece pf attention with Quetta being at lead. Quetta has seen tremendous transportation related development to serve high travel demand in last decade and so. These projects include Planned Public Mass Transportation projects as Quetta Mass Transit Train, and Quetta Mastung Gwadar Railway Link. Public Mass Transportation services are assisted by major enhancement of road infrastructure which includes improvement and development Sariab Road, Western Bypass, Sabzal Road and Link Badini Road. Further to this, Government is planning to transform city into Smart and Safe City with use of IoT along with application of Advance Traffic Management System.
All these roadways infrastructure are serving major localities of Hazara Town, Satellite Town, Pashtunabad, Frontier Colony, Jinnah Town, Pashtun Bagh, Model Town, Durrani Town, Gukshan Town, Quetta Cantonment, Modern Colony, Muslim Town, Lehri Abad, Faisal Town, Shahwani, Killi Kharotabad, Bhatti Colony, Garden Town, Pak PWD Colony, Darray Aajai, Badizai Colony, Napier Lines along with aim to serve key future Chamand Housing Society, Chiltan Housing Society, Defence Housing Society, Eman Housing Society.
Traffic Congestion Solution for Quetta
Despite development of high-profile transportation projects, Road Infrastructure is still operating in distress and pressure. There could be many reasons for this deteriorated and congested traffic condition in Quetta including increase in vehicle ownership, less reliable public transportation, increase dependency on motorbikes, inefficient traffic management and enforcement etc. One of foremost reason for inefficiency of these projects is unreliable data collection during feasibility and planning of project and poor practices in traffic surveys in Quetta. Efficient planning and design of road construction, renovation and maintenance works require accurate overview of existing transportation situation for assessment of economic feasibility and to quantify consequences of planned measure. Optimized decisions and plans highly depends on accuracy and quality of relevant data and its source. Traffic Surveys aim to capture precisely to reflect the real-world condition.
Traffic Survey Company in Quetta
Think Transportation principally gives high importance to collection of accurate, precise and reliable data so as to ensure effective input to Analysis Activities. Think Transportation has been providing Traffic Engineering, Transportation Planning Consultancy in Quetta along with specialized services of traffic surveys and data collection. Our dedicated Data Collection Experts and Team makes us proud to own excellence in data collection activities. We make use of advanced methods and information and technology to collect data in a reliable and efficient manner. We have built In-House products such as Vision Genius (for Image Processing), Smart Interview App, Road Eye App, GPS Survey App to maximize the efficiency of data collection. Our Quality Control expert inspect the quality, accuracy and reliability of Data. We conduct a vast range of surveys related to traffic and
Services include, but not limited to:
Automatic Traffic Count Survey (with video recording and image processing)
Origin Destination Surveys
Roadside Interview
Toll Audit
House Hold Surveys
Reconnaissance Survey
Opinion Surveys
Mid-Block and Turning Movement Count Surveys
Speed and Travel Time Surveys
Signal Timing Surveys
Queue Length and Delay Surveys
Parking Surveys
Pedestrian Surveys
Road Inventory Surveys
License Plate Recognition
Willingness to Pay Survey
Stated Preference Survey
Boarding and Alighting Surveys
Bus Transit Surveys
Bus Route Frequency and Occupancy Survey
Think Transportation is actively participating in changing the trends towards traffic survey, data collection techniques and mechanisms to bring foremost importance to reliable data and information for justified planning and management of transportation facilities. Think Transportation has been playing their part in the successful planning and operations of major transportation related projects and will keep striving for the enhancement.